Product information
Discontinued Item
Muscle Suit Power
The high-power model in our Muscle Suit series for back support
Choose from two different air supply methods to suit your needs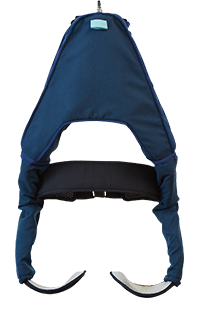 Specifications
Size
Small/medium size, medium/large size
Product dimensions: Height × Width × Depth
Small/medium size: 810 mm × 450 mm × 200 mm
(31.9" × 17.7" × 7.9")
Medium/large size: 900 mm × 500 mm × 220 mm
(35.4" × 19.7" × 8.7")
Product weight
6.6 kg (14.6 lb)

(*1)

Driving force
Compressed air
Actuator
McKibben artificial muscle × 4
Method of supplying compressed air
External supply using a compressor

(*2)

/ Manual pump
Assistive force
Up to 35.7 kgf (140 Nm) = 78.7 lbf (103 ft-lb)
Area of assistance
Back
Environmental temperature during use
5℃~35℃
Applicable body height (recommendations)
Small/medium size: 150 cm to 165 cm (4" 11' to 5" 9')
Medium/large size: 160 cm to 185 cm (5" 3' to 6")
Water-resistant cover
Not included
Interface
Air intake switch

(*3)

Sound level
Under 70 dBA

(*4)

Manufacturer's warranty period
Two years (One free inspection)

(*5)
(*1) Excluding cover.
(*2) The product functions at 0.5 MPa (72.5 psi), but 0.8 MPa (116.0 psi) is recommended to achieve smooth operation.
A mobile battery is needed to power an electric valve that controls the flow from the external air supply.
(*3) Only when using a compressor.
(*4) When running on a compressor.
(*5) Warranties of up to four years are available as paid options.