Specialized for back support
Helps you when carrying people or heavy goods, or when working while bent over
Support for arms
Helps you when working with your arms up
Support for arms and back
Helps you when handling heavy objects
How Muscle Suit works
McKibben artificial muscles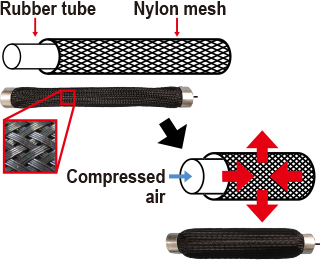 McKibben artificial muscles
These muscles are formed by wrapping rubber tubes in nylon mesh and then clamping them at both ends. The rubber tube expands when compressed air is pumped into it, and the nylon mesh converts this expansion into a strong pulling force by making the tube grow shorter. McKibben artificial muscles are lightweight, flexible, and have a simple construction. They are safe because they only contract when actuated (by about 30% of their total length maximum).
The artificial muscles used in Muscle Suit are 1.5 inches in diameter and weigh just 130 g (4.6 oz) when uncompressed, but can produce up to 200 kg (441 lb) of tensile force at 5 atmospheres (73.5 psi). The Power model uses four of these muscles, and the Muscle Suit and Muscle Suit Edge models use two.
Mechanism for providing back support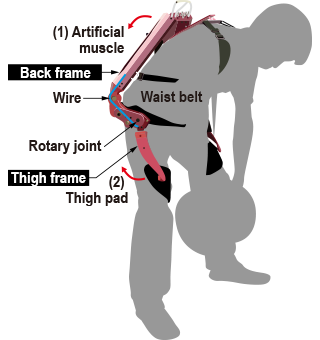 Mechanism for providing back support
The back frame is designed to swivel back and forward on the rotary joint attached to the top of the thigh frame. One end of each artificial muscle is fixed to the top of the back frame, and the other is attached to a wire. This wire is fixed to a pulley near the rotary joint on the thigh frame. The mechanism operates in the following way:
When the artificial muscles contract, they pull the wires fixed to the thigh frame, and so the back frame swivels on the rotary joint in the direction of the first red arrow in the image to the left. This makes the wearer's upper body move into an upright posture. The thigh pads help absorb and reduce the counterforce of the thigh frame swiveling in the direction of the second red arrow in the image.